Few days back while playing badminton , my friend asked me , How's my crypto investment doing? is Crypto still alive?
my answer was : Well , seams like craziness is almost over. But thanks to the 30-year-old wonderkid Sam Bankman-Fried who controlled an empire consisting of the Alameda fund and FTX crypto brokerage that was worth more than $32 billion , I was wrong . 😲
He was a philanthropist, sports sponsor, and had the support of well-known investors like BlackRock. Indeed, "SBF" (as he is called) was surrounded by Wall Street and Washington players .
This week, SBF disclosed that FTX had experienced $6 billion in customer withdrawals and had tried (and failed) to sell itself to Binance, the largest cryptocurrency exchange, his arch-rival. Bankruptcy is imminent unless he can close a reported $8 billion liquidity gap.
SBF Failure weigh heavy on crypto trust
This is the cryptocurrency equivalent of the Lehman Brothers shock in 2008. Not because it might lead to the collapse of traditional finance; the total market cap of cryptocurrencies is just $1 trillion today (a third of last year), and most of their tokens function like chips in a casino (ie they can only be used there). However, the FTX scandal has caused a crypto contagion, which has further deflated the bubble that was originally created by cheap fiat money.
The industry is a prime example of how central bank tightening has reduced investor risk appetite (which, as I have noted before, is ironic given that crypto was billed as a hedge against central bank excess). And just as the Lehman crash prompted a reconsideration of subprime,Crypto will be reassessed as a result of FTX. Confrontations loom.
So does it mean, Crypto is dead !
No, not always. However, unless there is a comprehensive regulatory reform, many mainstream investors and institutions will likely flee in the near future. Because the FTX meltdown exposed the sector's at least two significant Achilles heels.
One is that because balance sheets are frequently opaque, it is incredibly difficult to determine what assets—other than blind faith—underpin digital tokens. FTX and Alameda were once regarded as having adequate capital. However, a report from last week claimed that their balance sheets were inflated by significant holdings of a virtual currency called FTT that was created by none other than FTX itself.
It has not been confirmed by FTX. What is certain, however, is that after tweeting about his intentions to sell his FTT holdings, Binance CEO Changpeng "CZ" Zhao caused the price of the token to crash, which in turn sent SBF's price into a tailspin. Opacity is expensive.
Dark clouds on Crypto industry
The second concern is custody, where procedures have for a long time been a hazardous muddle (as I also recently warned). The SBF empire apparently rehypothecated assets on a wide scale while serving as a broker, proprietary trader, lender, and custodian for the cryptocurrency market. This led to power concentrations, which, in yet another irony, ridicule the idea of decentralization in the cryptosphere. It also implies that clients might not get their money back. Due to the absence of a lender of last resort or investor safety net in the cryptocurrency world, panic has resulted.
Theoretically, these issues might be resolved if crypto were required to follow the same regulatory principles about custody and transparency as antiquated fiat-based finance. If so, traditional investors might continue to participate.Congress has already introduced proposals from both parties that aim to do this. But due to political inaction, they have not yet been put into practice. Additionally, in reality, the attitudes of crypto players regarding regulation are, at best, conflicting.
Binance A strong trusted Company for crypto :
Look at Binance. This week, CZ unveiled a flurry of transparency initiatives and criticized FTX for lending money without adequate reserves and utilizing its own token as collateral. However, Binance is mostly an offshore company, and CZ claims he sold his FTT tokens because "we won't back those that campaign against other industry players" – most likely with authorities. I think it's fair to say that institutional investors will be alarmed by this latest wacky narrative twist.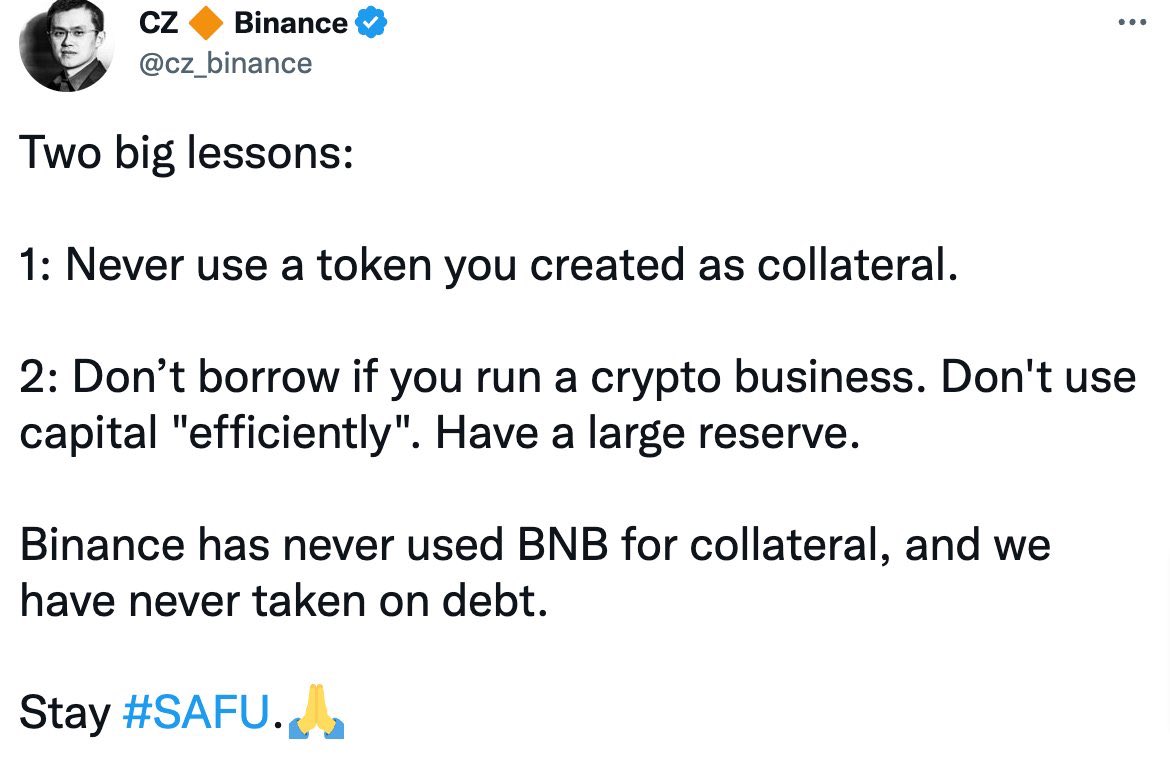 Binance CEO criticizing SBF on how irresponsible he was on using fund from customer for own investment.
But assuming that this means all forms of crypto are no longer viable would be incorrect. One reason is that there is still a sizable group of players who use digital assets to get around government regulations, whether it's because they subscribe to libertarian ideologies, do nefarious things, or move money out of countries like China.
What about CBDC ? isn't it gonna kill Crypto ?
It seems unlikely that the retail version of CBDCs will take off very soon. However, a lot of central bankers in Europe and Asia believe that wholesale CBDCs could be helpful. The Federal Reserve is less enthused, but its chair, Jerome Powell, recently said he may accept privately-issued dollar stablecoins if (and only if) the Fed regulated them.
Thus, the future of cryptocurrencies may be divided into two distinct areas: one for dubious offshore activity and the other for serious, well regulated central bank trials. Certainly not what the libertarians who pioneered the cryptocurrency dream ever imagined. But unless there is urgently needed regulatory reform, it appears to be the most likely scenario. In either case, get ready for more turns.
So what is the final verdict is Crypto dead?
Depends on which crypto currency you are talking about things like Ethereum , Bitcoin and binance has better future due to it's more honest and loyal team ( at least for now , in this world we cant trust anyone )
On other hand there are projects like Ripples , Solana which are struggling to gain trust .
and in the middle hand we have projects like these : https://99bitcoins.com/deadcoins/
which are dead , like solid dead.
Do check out our twitter and chart section for more interesting charts and post.